Diese Veranstaltung hat bereits stattgefunden.
Jahrestagung 2021 der AG Medienphilosophie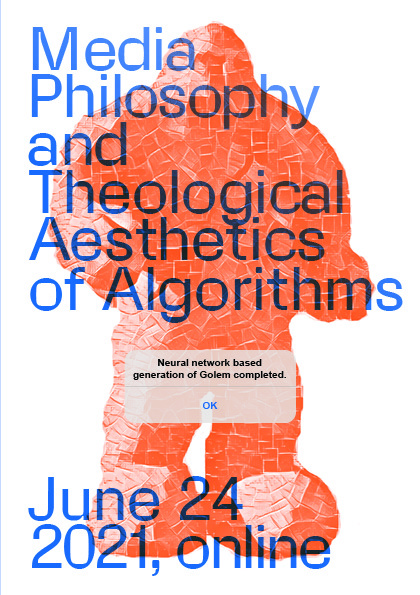 Media Philosophy and Theological Aesthetics of Algorithms
June 24, 2021, 10.00am–4.00pm (CEST)
You can download the conference schedule here.
The 2020/2021 workshop of the AG Medienphilosophie aims at debates on the intersection of media philosophy and theology. The focus is on algorithmic based technologies, their operations and aesthetic practices. From a media philosophical standpoint, we want to initiate a debate on theological legacies in thinking algorithms and conversely ask for operations and aesthetic practices that highlight the functionality of algorithms. How do algorithms allow for other mediums to do or perform media philosophy? What kind of aesthetic practices such as images, film, sound or especially algorithmic based media reveal theological implications of algorithms? What kind of sense of reality do algorithmic based media show? Perhaps only aesthetic theory can salvage the art or the advent of "artificial intelligence".
In cooperation with the Deutsche Gesellschaft für Ästhetik (DGÄ) and the research group Theology & Contemporary Culture at the Protestant Theological Faculty of Charles University Prague.
Originally the conference was scheduled for May 2020 at Charles University Prague. Because of the pandemic we had to reschedule the conference to June 2021. You can download the call for paper here. A selection of the contributions to the conference will be published in the Internationales Jahrbuch für Medienphilosophie 2021, Band 7, "Medialität/ Theologie/ Religion" (de Gruyter).
Conference Organizers:
Johannes Bennke (Bauhaus University Weimar)
Virgil Brower (Charles University Prague)